Women are inadequately represented at the meetings of international treaties and processes that address disarmament and weapons issues, including those concerning conventional weapons and weapons of mass destruction. A new discussion paper from Article 36 shows that at any given meeting between 2010 and 2014 of the thirteen disarmament forums studied, only around a quarter of official country delegates were likely to be women, and less than a fifth of statements were likely to be given by a woman. Almost half of all country delegations at any of these meetings were likely to be composed entirely of men.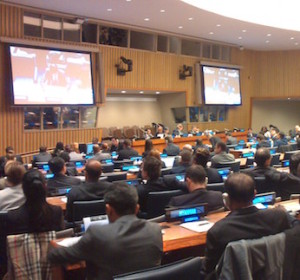 This paper explores various patterns in the data related to women's underrepresentation at these forums, including intersection with the underrepresentation of developing countries, and regional variation.
These findings represent one aspect of the relative marginalisation of women in international decision-making forums, despite global recognition of the need to address this issue – for example in the UN Security Council and in the recently agreed Sustainable Development Goals.
The unequal participation of women at multilateral disarmament meetings is one of the ways in which gender intersects with disarmament and development related issues. Gendered discourses on violence and weapons, which for example frame certain weapons as symbols of masculine strength, while framing women as being in need of male protection, can shape how disarmament issues are addressed, as well as exacerbating women's exclusion. Women, men, boys and girls can also be exposed to different patterns of violence, and affected differently by specific weapons and practices. Gender perspectives are essential to building progressive disarmament initiatives.
Addressing different aspects of marginalisation within disarmament forums that the unequal participation of men and women is part of will require different approaches. For example, as well as ensuring the equal participation of women and men, ensuring the meaningful participation of those who have been most affected by the weapons and issues under discussion, addressing the underrepresentation of lower income countries, and ensuring the consideration of humanitarian perspectives, are important policy objectives that states and organisations should embrace.
Download this discussion paper