06.11.19
Global call for bold action on the environment, peace and security
By Maya Brehm
To mark the UN's International Day for Preventing the Exploitation of the Environment in War and Armed Conflict, Article 36 joins a group of 102 civil society organizations and independent experts from over 30 countries in calling on the international community to take bold actions before, during and after armed conflicts to protect people and ecosystems.
Environmental degradation threatens peace and security while conflicts can have a devastating impact on ecosystems, human health and livelihoods. The last year has seen serious pollution incidents, damage to critical civilian infrastructure, fighting in industrialized areas risking environmental emergencies, spiraling deforestation and biodiversity loss, and the deliberate targeting of the environment.
The signatories of the call are active in the fields of human rights, humanitarian disarmament, environmental conservation, international law, peace building, public health and sustainable development. They stress that peace and security rely on healthy and productive ecosystems, just as environmental protection relies on peaceful societies.
There is reason for hope: more attention than ever is being paid to how environmental factors can lead to conflicts, how the environment is affected by conflicts, and how the environment can help restore peace. The signatories welcome UN-led efforts to strengthen the laws protecting the environment in relation to armed conflicts, and to establish a Climate Security Mechanism, as well as the increasing recognition of the role of the environment in the protection of civilians, and steps to mainstream the environment in post-conflict recovery and peacebuilding.
This better understanding of the connections between the environment and armed conflicts must now urgently be translated into meaningful change in practice. With new constituencies engaging on the topic, such as conservation experts calling for measures to protect biodiversity in areas affected by conflict, the necessary momentum for change is growing.
Protecting civilians and building peace means protecting the environment we depend on. Decisive and sustained action at all levels of society is needed now. As the Executive Director of UNEP put it in a statement issued yesterday:
"[The] evolving security landscape requires a shift in the way the international community engages in conflict management….We have only one way forward: to up our ambition to protect our planet, even in the most complex and challenging scenarios."
Disarmament actors – through policy-making and on the ground work – can make an important contribution to  realizing the goal of sustainable security.
To move from words to action this #EnvConflictDay, the signatories are calling on the international community to:
Establish the capacity to identify, act on and mitigate the environmental risks that can lead to armed conflicts.
Strengthen, implement and respect the laws protecting the environment in relation to armed conflicts, and hold those responsible for harm to account.
Assess environmental risks and assist victims after conflicts, remediate damage, and employ all the environmentally sound tools at its disposal to regenerate ecosystems while supporting communities to build sustainable peace.
Read the full statement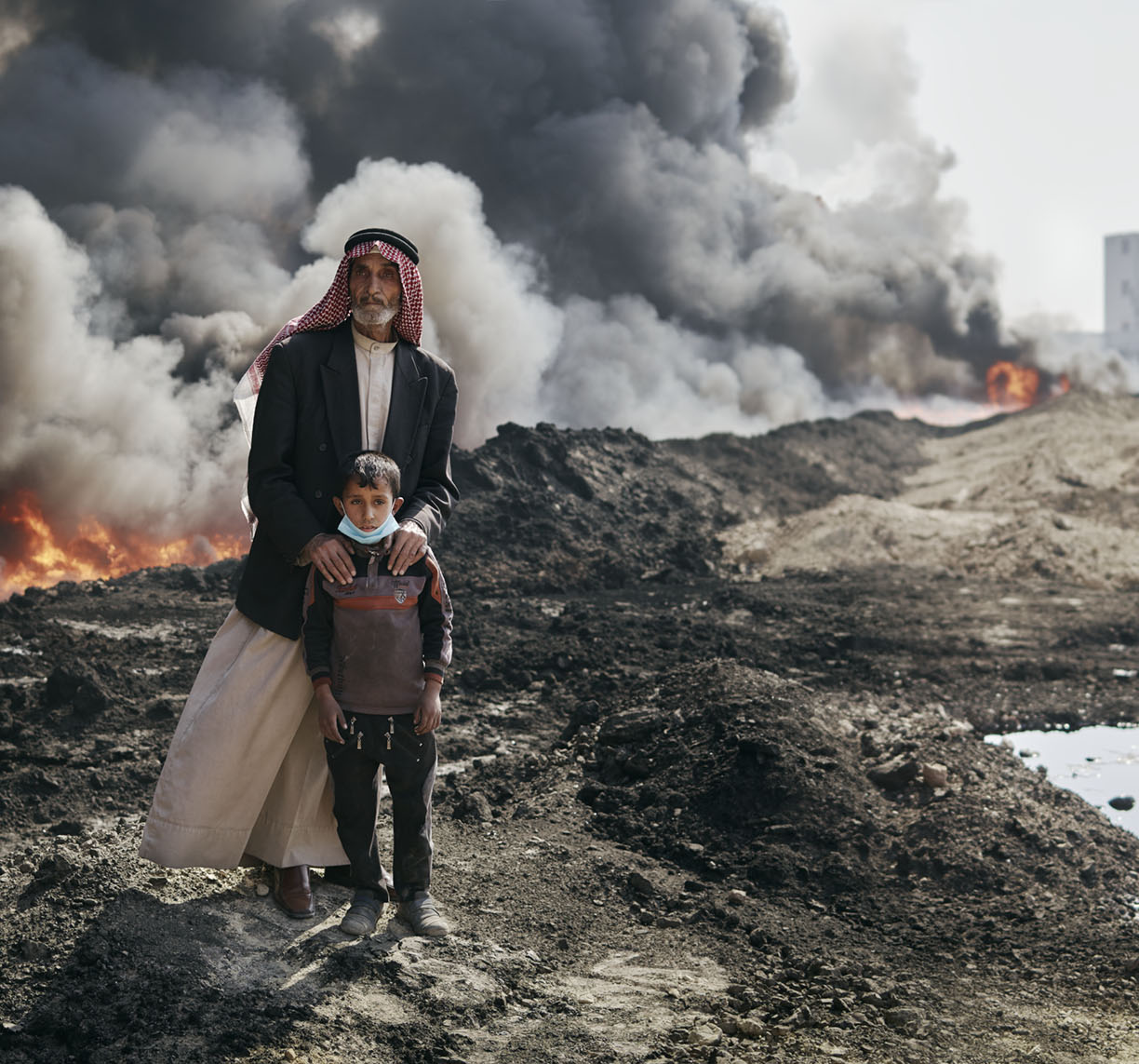 From Words to Action – Time to Act on the Environment, Peace and Security
Image: Nadak Aziz and Kharim Ali, a village elder an a young boy pose for a portrait near the Qayyarah oil fires. October 25th, 2016. Joey L./Oxfam