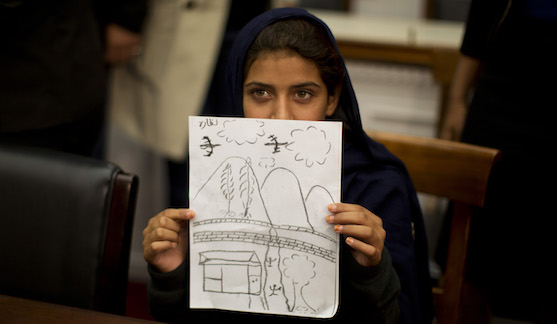 08.10.18
Addressing harm from drones in the use of force: A way forward
By Elizabeth Minor
An increasing number of countries are now seeking drone technology for deployment in the use of force, while evidence of the abusive practices such technology has already facilitated is mounting. States now have a clear and urgent role to play in collectively determining what types of drone use are or are not acceptable for the international community.
Today, Article 36 is releasing two new policy papers to contribute towards the goal of addressing the humanitarian concerns that have emerged around drones, as well as the threat posed to rights and international norms governing the use of force.
With the First Committee of the UN General Assembly starting its discussions today, states have an opportunity to examine and elaborate their national positions on these issues, and to engage in building a way forward.
Our paper 'Drones in the use of force: A way forward' outlines the major aspects of the problem, the response from the international community so far, and a way forward in order to build an effective international policy response on this issue. Such a response should go beyond calls for transparency and accountability to focus on the protection of people and their rights. By separating off the issues of export controls and of accountability, and by taking as a starting point the harm current drone use is causing to communities, states can focus on clearly articulating the role they see for drones in the use of force and, crucially, the specific limits that should be placed on them.
'Approaches to technology and policy: International standards and addressing drones in the use of force' looks at the lessons and examples that previous multilateral arms control and disarmament instruments can offer to a process focusing on drones. This paper considers the value of weapons-focused approaches to humanitarian and security problems, and looks at: the range of ways different international agreements frame the problems they respond to; the types of political and legal documents that are agreed; the ways in which implementation and enforcement of these agreements can be approached; the relationship between new agreements and existing law; and the issue of how inclusive agreements and processes should be in order to be effective.
Drones represent a significant development in weapons technology, through the new capabilities they make available to states and others, such as surveillance, persistence, and lack of physical risk to the attacker.
Examining armed drone use so far by some states, it is clear that drones' unique technological features have enabled activities that have, in turn, been harmful to communities and to international norms in the use of force. Unsound legal and political justifications have then been applied to these activities.
The key problem with drones lies at this intersection of risky technological potentials and the erosion of norms, which both need to be addressed. Developing an international conversation on what constitutes an acceptable role for drones in the use of force – if any – and then engaging further in a process to elaborate standards and delimit state practice, would enable the specific risks of these technologies and the harms caused to be addressed. It would, at the same time, also provide states with the opportunity to strengthen support for those international norms that provide greater protection to communities.
Restatements of general commitments to the law and persistent pressure on certain states have not so far represented an adequate response. International action is urgently needed to address harm already caused, and to prevent unacceptable patterns of harm in the future.
At First Committee this year, states can:
Recognise the ethical, legal, humanitarian and peace and security concerns that drones bring to the use of force in the contemporary landscape
State their commitment to reducing and addressing harm and ensuring the protection of rights.
Acknowledge that current armed drone practices pose a threat to the international legal norms and obligations that govern the use of lethal force, and articulate or re-affirm their support for narrow international legal constraints.
Assert the need for transparency in the use of drones by all states, including regarding the legal and policy basis for strikes.
Call for the recording of casualties and the addressing of victims' rights through effective mechanisms, and to make such mechanisms public and accessible to enhance accountability and democratic oversight.
Recognise the need for a broader multilateral conversation about what role drones should play in the use of force and the specific limits and standards for their use, and welcome the recommendation from the UNSG that common standards should be developed.
For a breakdown of state discourse on drones at the First Committee and Human Rights Council in recent years, as well as data on which states have endorsed the US-led drones export-control declaration initiative, and recent relevant materials from the UN system, read Article 36's mapping paper summarising theses issues (last updated July 2018).
Download the new policy papers

Drones in the use of force: A way forward
Briefing paper
October 2018

Approaches to technology and policy: International standards and addressing drones in the use of force
Briefing paper
October 2018
Read more
Briefing on drones for states attending UN General Assembly First Committee 2018