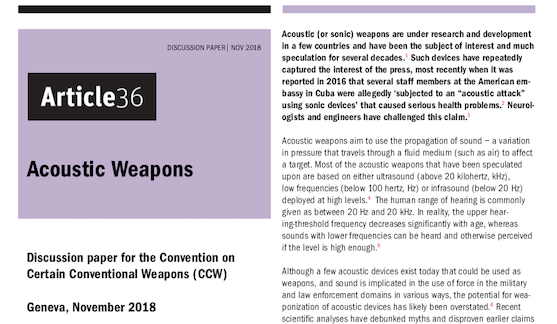 20.11.18
Acoustic weapons and "remaining vigilant" on science, technology and weaponisation
By Maya Brehm
Acoustic (or sonic) weapons, under research and development in a few countries, have been the subject of interest and much speculation for several decades. These devices have repeatedly captured the interest of the press, most recently when it was reported in 2016 that several staff members at the American embassy in Cuba were allegedly 'subjected to an "acoustic attack" using sonic devices' that caused serious health problems.  Cuba has denied any involvement.
Neurologists and engineers have challenged this claim however. Although a few acoustic devices exist today that could be used as weapons, and sound is implicated in the use of force in the military and law enforcement domains in various ways, the potential for weaponization of acoustic devices has likely been overstated.
Read Article 36's new discussion paper on acoustic weapons, part of our series of bulletins on new technologies and weaponisation.
Developments around acoustic weapons highlight broader questions about the potential implications of current developments in science and technology (S&T) for multilateral weapons governance efforts, including within the framework of the Convention on Certain Conventional Weapons (CCW).
The State Parties to the CCW are holding their annual meeting in Geneva this week, and delegations are expected to express their views on how developments in S&T relevant to the Convention may be addressed on Thursday morning. A working paper submitted by India and Switzerland provides a useful overview of the debate thus far.
To support that discussion, Article 36 is co-hosting a lunch-time side-event with the Swiss Federal Department of Foreign Affairs and UNODA on Wednesday 21 November (Room XXIII, Palais Des Nations, Geneva).
The UN Secretary-General's report on the potential impact of developments in S&T on international security and disarmament (UN doc A/73/177) raised concerns that "new and emerging weapon technologies […] could imperil the security of future generations," and calls on the international community to "remain vigilant." The side-event will explore avenues of engagement, with a view to harnessing S&T advances to strengthen multilateral weapons governance, and prevent them from threatening our collective security.
Download this discussion paper
Discussion Paper
November 2018